Location
City of Iowa City, Iowa
Solutions
Sectors
The west bank of the Iowa River had drastically eroded. Contributing factors included saturated banks, scour at the bank's toe, and loss of armoring and vegetation. The west bank remained highly susceptible to further erosion as well as threatened two office buildings, a gas main, and a fiber optic line. Bank stabilization and permanent protection from future erosion were essential.
Bolton & Menk conducted a study to determine available design options. This section of the Iowa River—a sovereign river—is in the FEMA floodway and known to have endangered freshwater mussels. We completed a HEC-RAS no rise analysis, worked with a malacologist to search for endangered mussels, and created plans that complied with FEMA, Clean Water Act, and Sovereign Lands rules.
Pre-application coordination with review agencies resulted in approval of all permits with a single permit submittal. Final design included 900 feet of shoreline stabilization with a revetment toe, a retaining wall with a natural stone aesthetic, a "fisherman's" path along the water edge, and space for a future multiuse trail on top of the retaining wall.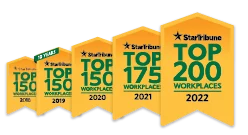 Named one of the very best workplaces in the State of Minnesota! We're proud to rank in the Top 50 on the list, and even prouder that we were voted in by our own employees.