Nate Stadler, PLS, CFedS
Principal Survey Manager
Nate grew up in Rosemount and a conversation with a cousin led him into land surveying in 1996. Nate is driven by surveying's ever-changing technology and techniques. Much of his experience is providing survey services for ALTA/ACSM Land Title Surveys, boundary surveys, platting, GPS control surveys, easements, and construction staking for residential and commercial developments. Nate oversees surveying services for Bolton & Menk's North Area. When not traveling for work, Nate loves barbequing. He can make a mean rack of ribs!
Education
Awards
Bolton & Menk, Inc. – Above & Beyond Award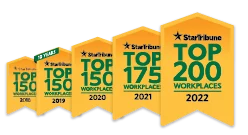 Named one of the very best workplaces in the State of Minnesota! We're proud to rank in the Top 50 on the list, and even prouder that we were voted in by our own employees.