Location
City of Sherburn, Minnesota
Sectors
The City of Sherburn has been performing monitoring testing for salty discharge at the wastewater treatment facility to meet recent National Pollutant Discharge Elimination System (NPDES) requirements. Total chlorides (salt) need to be reduced in the wastewater treatment facility's effluent to the level required by the facility's NPDES Permit. By removing hardness at the water treatment plant, the city is able to lower the chloride discharged to the wastewater treatment facility.
The city worked with Bolton & Menk to soften the raw water at the water treatment facility and successfully reduce chloride levels to meet requirements at the wastewater facility. By allocating the dollars on the front end at the water treatment plant, the city is not only treating to meet effluent levels, but also providing additional community and resident benefits, including a decrease in individual water softening needs.
Resources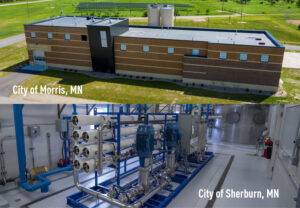 Different-sized cities require different water and wastewater solutions. Learn how Bolton & Menk used chloride reduction to treat wastewater at the source for Morris and Sherburn.
Learn