Location
City of Two Harbors, Minnesota
With portions of the existing system ranging from 40 to 60 years old, the City of Two Harbors' Water Treatment Facility was in dire need of improvements.
Through a combination of rehabilitation, demolition, and complete replacement of existing system components, Bolton & Menk designed and implemented improvements that maximized the useful life of the existing infrastructure, reduced operations and maintenance costs, and provided the greatest usage of city funds.
Implementation of the improvements provided the city with a water treatment system that is reliable, efficient, and provides safe drinking water for the city's residents for the next 30 years.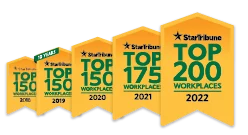 Named one of the very best workplaces in the State of Minnesota! We're proud to rank in the Top 50 on the list, and even prouder that we were voted in by our own employees.