Ronald Roetzel, PE
Senior Principal Aviation Engineer
Ron's favorite part of his job is the people he works with and the ability to solve their problems, "I like making their job easier because of what I do." Ron joined Bolton & Menk in 1984 and serves as the principal aviation work group leader. He has extensive experience working with General Aviation airports across the Upper Midwest and setting up large projects for successful funding. He manages expectations of the agencies as well as the public. Ron leads the sponsor through challenges to complete the project on time and within budget. When he doesn't have his head in the clouds, Ron spends his time remodeling old residential homes.
Education
Resources
We create successful outcomes for you by integrating unmanned aircraft systems (UAS) and geographic information systems (GIS) technology into our airport projects.
Learn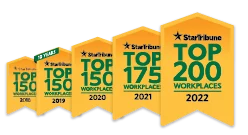 Named one of the very best workplaces in the State of Minnesota! We're proud to rank in the Top 50 on the list, and even prouder that we were voted in by our own employees.