Location
City of Redwood Falls, Minnesota
Solutions
Sectors
The City of Redwood Falls began exploring hangar construction options in 2015. Many local businesses expressed interest in basing their aircraft at the airport, creating a substantial waiting list. 
Bolton & Menk provided the city with three hangar construction options to maximize the amount of hangars while staying within the available budget. The city elected to construct seven bay hangars to accommodate business and private pilot needs. The business hangars include two 65-foot by 65-foot hangars and one 55-foot by 42-foot hangar. The private pilot hangars include four 45-foot by 42-foot hangars. 
To proceed with construction using federal funding, Bolton & Menk assisted the city with borrowing $626,143 in federal non-primary entitlement funds from other airport sponsors.
Awards
Minnesota Council of Airports (MCOA) – 2019 Intermediate Airport Project of the Year Award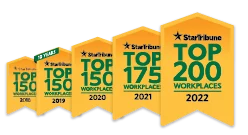 Named one of the very best workplaces in the State of Minnesota! We're proud to rank in the Top 50 on the list, and even prouder that we were voted in by our own employees.