Location
Des Moines International Airport, Iowa
Solutions
The Des Moines International Airport needed a new terminal building to accommodate their substantial increase in passenger traffic. The new terminal will be located near the northeast corner of the airport, where Des Moines Flying Service is currently located.
Bolton & Menk worked with airport engineering staff and the staff at Des Moines Flying Service to design a new building that will accommodate their relocation and the anticipated growth of a new business line. The project included working with multiple disciplines to develop a facility that met their needs and was acceptable to Des Moines International Airport staff.
The new Des Moines Flying Service facility provides staff with adequate space to run their business, include a new business line, and create a new corporate area located on the airfield.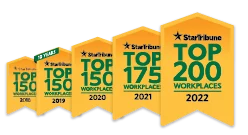 Named one of the very best workplaces in the State of Minnesota! We're proud to rank in the Top 50 on the list, and even prouder that we were voted in by our own employees.