Location
City of Clinton, Iowa
Solutions
Sectors
The Clinton Municipal Airport had a single taxiway leading from both airport apron areas to Runway 14/32. Bolton & Menk worked with the FAA to reconfigure these taxiways so taxilanes in both directions (south and west) joined on a section of taxiway constructed to be part of a parallel taxiway to Runway 14/32. This made the hold line straight, greatly improved visibility of the runway when holding, and replaced much of the worst pavement on the airport with new  PCC pavement. Drainage was improved and additional areas of severely deteriorated pavement were reconstructed. At the northwest corner of the aircraft parking apron, traffic phasing allowed complete pavement reconstruction, allowing continued access to the apron from both the primary runway and north end of the crosswind runway.
During the project, favorable bids allowed for inclusion of not only bid alternate pavement rehabilitation but also expansion of pavement reconstruction to add poor areas adjacent to the planned work. Traffic was maintained through phasing and now aircraft traffic have a much safer intersection to access Runway 14/32.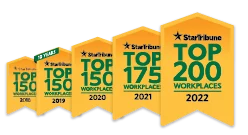 Named one of the very best workplaces in the State of Minnesota! We're proud to rank in the Top 50 on the list, and even prouder that we were voted in by our own employees.