Construction Updates and Newsletters
Once Construction begins, regular construction newsletters, notices, and updates will be sent to affected property owners. Copies will be posted here.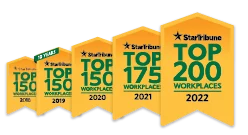 Named one of the very best workplaces in the State of Minnesota! We're proud to rank in the Top 50 on the list, and even prouder that we were voted in by our own employees.