Location
City of Muscatine, Iowa
Sectors
Historically, Mississippi Drive was a barrier between the downtown core and recreational opportunities along the Mississippi Riverfront. A former four-lane state highway, this now city street handled considerably less traffic than originally anticipated. Bolton & Menk evaluated the corridor for traffic needs, pedestrian uses, and impacts from an adjacent railroad line.
Using this data, a series of public outreach forums showcased complete street principles that would complement pedestrian and vehicular corridor use. Using real time audience polling at heavily attended public meetings, opinions on multiple new design ideas were heard from the silent majority. Through this polling, community desires were objectively presented to the city council.
This combination of technical analysis and public input allowed the corridor to be 'right sized' for vehicular traffic, including an emphasis on pedestrian safety and brand identity along the corridor, including the downtown core. The ultimate success of this project was a rediscovered connectivity between downtown and the riverfront; it provides residents with access to the Mississippi River which has played an important role in the community's development.
Awards
American Council of Engineering Companies of Iowa – 2020 Engineering Achievement Award in Transportation
Resources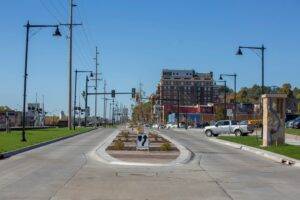 Relinking Muscatine to the Mississippi River
The completion of the Mississippi Drive reconstruction project has kickstarted several private development projects as well as additional phases, including a roundabout at one end of the corridor and a continuation of the project's design onto an adjoining corridor.
Learn More