Location
City of Hopkins, Minnesota
Overview
Through innovative public outreach and a collaborative design process, The Artery received endorsements and grants from multiple agencies and jurisdictions, helping the city fund the majority of construction and spur private economic development.
–
Sectors
The concept of The Artery began a decade ago, envisioned to increase visibility of historic Mainstreet and connect the city core to the main thoroughfare, Excelsior Boulevard. With this as a starting point, the City of Hopkins wanted to draw people from the proposed Hopkins Southwest Light Rail Transit station, through The Artery, to Mainstreet. Innovative development processes featured multi-disciplinary input from public works professionals, engineers, planners, urbanists, artists, and supporting specialists.
The Artery integrates interactive public art, innovative technology, a two-way cycle track, and educational elements of storytelling and cultural history all within the public realm, making this a prime destination along the proposed SWLRT Green Line. Few projects bring out such positive collaboration to create something unique, yet mutually successful on multiple fronts.
Awards
American Society of Landscape Architecture – Minnesota Chapter – 2023 People's Choice Award

American Planning Association – 2019 Great Places in America – Great Streets

Minnesota Department of Transportation – 2019 Environmental Stewardship for Innovations in Construction, Operations & Maintenance

American Council of Engineering Companies of Minnesota – 2018 Honor Award
Resources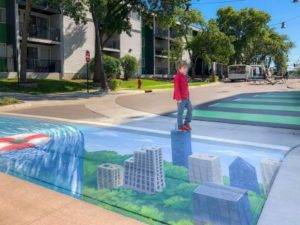 The City of Hopkins recently completed its "Artery" project, which successfully brought together all facets of public and private development across multiple agencies.
Learn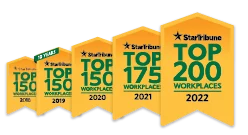 Named one of the very best workplaces in the State of Minnesota! We're proud to rank in the Top 50 on the list, and even prouder that we were voted in by our own employees.