Location
Shakopee Mdewakanton Sioux Community
Sectors
A larger gathering space was needed by the Shakopee Mdewakanton Sioux Community to accommodate community members during council meetings and events. SMSC also had an extensive inventory of cultural artifacts with no space to display and tell the story of their history and culture.
Bolton & Menk assisted the community as part of an integrated design team to determine a building location within the selected site, vet programming elements for the site and building, and ultimately develop a plan to accommodate future buildings on the larger campus. Efforts included coordination with community members and the SMSC Business Council to establish a budget and tailor phased construction of site elements.
Bolton & Menk developed concepts and construction documents integrating access to restored prairie and wetland areas, water features, and gathering spaces for educational, recreational, and interpretive opportunities. A ribbon cutting for the completed Hocokata ti was held in July 2019, with additional site improvements phased in 2020. Future site features will be added as restored prairie areas become established and community needs necessitate.
Awards
Finance & Commerce – 2019 Top Project

American Council of Engineering Companies of Minnesota – 2019 Honor Award
Resources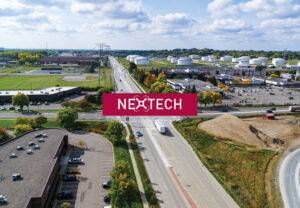 How UAVs Document Project Progress
UAV videos can be used in all stages of project documentation, from construction to the finished product. See some examples here!
Play